I absolutely love the first week back to school. One of the big reasons is of course the read aloud books that I read to the kids. I think this sharing, modeling, and engagement with the books sets a perfect tone to that first week. The books I choose are usually connected to some kind of activity that we do to build our community of learners. Here are the ones I usually start with:
*The Crayon Box That Talked by Shane Derolf.
The theme centers around acceptance of diversity and being able to see how everyone can work together. A box of crayons at a store do not get along because each thinks their color is the best. A little girl buys the talking box and takes them home. Needless to say they learn a lesson. I follow up this activity by giving each student a cardstock stencil of a crayon

.

They draw the labels, color it the color they wish, we put their name on it, and I put all of the crayons on a poster that I bought of a box of crayons. It stays up all year.
Here is a picture of our display. I include a quote from the book and a copy of the cover. I use tape to put the crayons on the poster and put them on it just like they would be in a box.
*Chrysanthemum by Kevin Henkes. Diversity is again the theme--being able to accept others--even those with a very different name. Chrysanthemum goes to school so excited only to wilt after others make fun of her name. Great book for discussion! I usually create on paper an acronym name poem form for each student. We discuss how to do these poems. Each student creates their own acronym poem. This is a great activity for a class book.
*Only One by Marc Harshman. This book is about working
together as a group no matter how many in a group. All
through the book you will find examples like: 12 eggs, but
only 1 dozen. The activity that I do involves using 2 pre-made blank puzzles. I get the ones that are 24 pieces so that you have a total of 48 pieces. I write across the top of the puzzle (laid side-by-side vertically) "___ Students , But Only One Class". I also write each student's name on a puzzle piece. I also include my name on a piece. (**I finally figured out that if I turned the puzzles over and numbered them on the back, it was easier to put it back together again.) Each student decorates their name piece-around their name-and another blank piece. I put them together and into a poster frame that fits the size. It hangs all year in our classroom as a reminder we are a class!
I could not leave this post without mentioning the first chapter book I read to the class--in fact for 31 years I have read this book at the beginning and the children love it! I have "voices" I use for the characters. The kids love the voices of the characters. If I happen to use the wrong one--they will be sure to let me know. I love this book!
*The Trumpet of the Swan by E.B. White. "Louis"--is born into the world lacking a voice. His parents soon figure out that he will not be able to go as far in life without a voice. So, Louis's father gets him a trumpet to use as his voice. The story shows how Louis overcomes his problem and the story is full of adventure and lots of life lessons.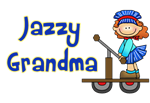 Wishing you all a wonderful start to the year---choose some read aloud books to build your learning community. I think kids sense your love for reading from these activities, and it sets a wonderful tone for the year.
Susan
I would love for you to visit my blog and follow me at:
Imagination Station
http://jazzygrandma.blogspot.com/
Please also stop by either of my stores:
http://www.teachersnotebook.com/shop/JazzyGrandma
http://www.teacherspayteachers.com/Store/Susan-Moon
Please click on the button below to continue your linky.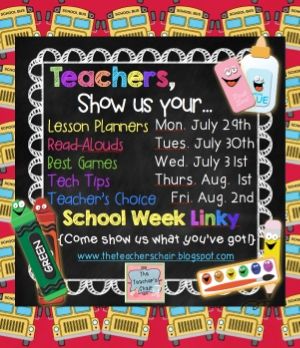 http://theteacherschair.blogspot.com/