I usually read Mark Teague's
How I Spent My Summer Vacation
to my students at the beginning of the year. What a great story! I project it using my Elmo and the kids love looking at the pictures and love the exaggeration used to entertain.
I've put together an activity packet using this book. It is available at both my TPT/TN stores:
http://www.teachersnotebook.com/shop/JazzyGrandma
http://www.teacherspayteachers.com/Store/Imagination-Station-jazzygrandma
Hope you like it...leave me a comment if you would please. Have a great week everyone!!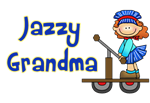 Susan