When we did projects, we never had enough time to finish them. We had to put materials away. Well, that desk was like the catch-all for everything. I later changed to tables and loved them. However, we needed some way to store this stuff. In my last blog, I told you about a wonderful presenter. Here was her solution: Working Portfolios!!!
So, I got a couple of crates, bought come gallon-sized freezer bags and cut pieces of cardboard to fit the entire length of the bag. I numbered my kids, so I also numbered the cardboard pieces in the top right corner of each side. I designed
labels
to use on the bags, wrote the numbers on the labels, and stuck them on the top center.
The presenter gave us a little hint for those who love to trap air in bags--snip off a small piece on each of the lower corners--no more trapping air! :-) I stood these up in the crates. I used 2 small crates, but one large crate might work.
What I thought was amazing was that most of the kids took to owning their portfolio, was proud of it, and made sure they filed pieces away until we worked on the project another day. Such an easy fix for a materials problem.
Here is a picture of the portfolio:
You can find this product at either of my stores:
http://www.teachersnotebook.com/shop/JazzyGrandma
http://www.teacherspayteachers.com/Store/Imagination-Station-susan-Moon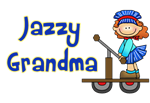 Susan
Enjoy organizing!!